Grandes ídolos da música prestam homenagem a Chris Cornell
Por Damy Coelho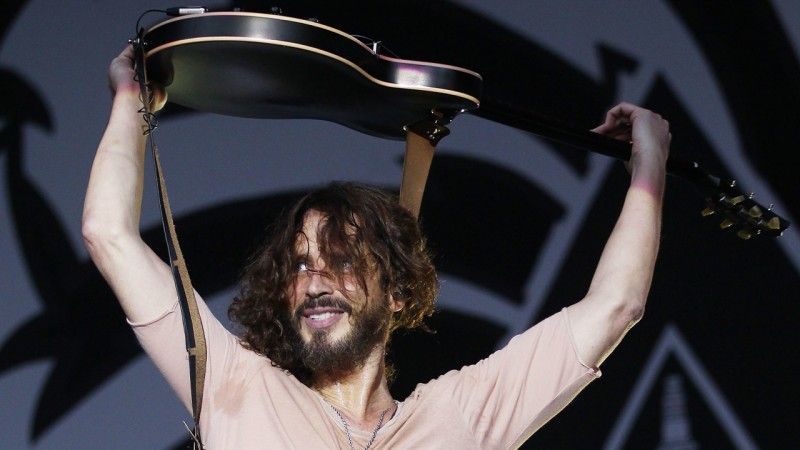 Assim como nós, ninguém consegue entender a morte tão repentina de Chris Cornell. O cantor foi encontrado morto em Detroit, poucas horas após fazer um show com sua primeira banda, Soundgarden.
Chris parecia feliz de estar no palco com seus velhos amigos, de volta a uma cidade que tanto gostava.
#Detroit finally back to Rock City!!!! @soundgarden #nomorebullshit pic.twitter.com/BqXx9veFoD
— Chris Cornell (@chriscornell) 18 de maio de 2017
Fãs e músicos consagrados prestaram homenagens ao cantor, que deixou sua marca na música com três projetos diferentes: o Soundgarden, Audioslave e Temple Of The Dog – fora sua carreira solo, de mais de 15 anos e com seis discos lançados.
Jimmy Page lamentou pela morte prematura: "Incrivelmente talentoso. Incrivelmente jovem. Que descanse em paz", tuitou.
Elton John se mostrou "triste e chocado" com a morte do cantor. Artistas como Billy Idol, Adam Lambert, Elijah Wood, Mark Lanegan, St. Vincent e as bandas Best Coast e Foster The People foram apenas alguns nomes da música que se manifestaram nas redes sociais nesta madrugada.
RIP Chris Cornell
Incredibly Talented
Incredibly Young
Incredibly Missed. pic.twitter.com/pKNI4tKiXz

— Jimmy Page (@JimmyPage) 18 de maio de 2017
Shocked and saddened by the sudden death of @chriscornell. A great singer, songwriter and the loveliest man. pic.twitter.com/Hwdgst8kmg

— Elton John (@eltonofficial) 18 de maio de 2017
Sad 2 hear of Chris Cornell passing..great singer and artist… another blow…RIP

— Billy Idol (@BillyIdol) 18 de maio de 2017
SO SO stunned to hear about Chris Cornell! Such a terrible and sad loss! Thinking of his family tonight! RIP

— Dave Navarro (@DaveNavarro) 18 de maio de 2017
Very sad news about Chris Cornell today. A sad loss of a great talent to the world, his friends and family. Rest In Peace. pic.twitter.com/BlgxE6cJLH

— Joe Perry (@JoePerry) 18 de maio de 2017
RIP Chris Cornell. Damn

— Mark Lanegan (@marklanegan) 18 de maio de 2017
Oh man. Sad to hear of the passing of Chris Cornell.

— Elijah Wood (@elijahwood) 18 de maio de 2017
A mutual friend called me and tells me my bro passed away. #RIPChrisCornell You are a great artist Love to Vicki and fam @nilerodgers pic.twitter.com/FhG0fhT0q1

— Nile Rodgers (@nilerodgers) 18 de maio de 2017
Tears in my eyes that this is your last ever tweet. We played here with u guys in 1992 thanks for your pipes @chriscornell u will b missed https://t.co/Xgbann0hd4

— Sebastian Bach (@sebastianbach) 18 de maio de 2017
#scary. I remember @chriscornell on tour with us so long ago. Remember drinking beer after the Melvins. Always thought we'd meet again RIP

— Sebastian Bach (@sebastianbach) 18 de maio de 2017
RIP. So young. So sad pic.twitter.com/61JjmdVFDC

— Best Coast (@BestCoast) 18 de maio de 2017
Chris Cornell. Damn. Was legit just playing "Outshined" yesterday. Such a loss.

— St. Vincent (@st_vincent) 18 de maio de 2017
LEIA TAMBÉM: Do grunge ao mainstream: o legado de Chris Cornell